'Tis the season for yard saling. And for barnstorming. And this month I've been up to both.
And then on to this weekend's fun: Yard saling! Chartreuse & co's annual Yard Sale is this weekend, and we've all been rummaging through all our treasures, projects, and finds, marking them at irresistible yard sale prices.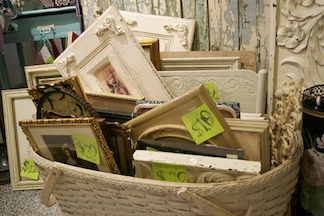 Plus, we're always bringing in fabulous new finds. Here's a look at my favorites this month:
And I've finally gotten some serious work done on my laundry room. Result? Tons of yard sale-priced vintage linens that I just can't fit in my newly organized space.
I'll be posting pictures -before and after – when the room is finally complete (I ran out of paint part way through . . .)
Thanks for reading,
Virginia