Our next monthly event, June 16-18 from 10-4 each day! Fresh finds, a mini market, food & drinks, and more!
Friday
Food Truck: Yume Teriyaki Grill. Wine: Loew Vineyards. Local Plants: M & M Plants. Coffee: Rustic Route Coffee.
Saturday
Food Truck: Mayta's Peruvian Cuisine. Wine: Loew Vineyards. Cocktails: Tenth Ward Distillery. Local Plants: Moonflower Farm. Coffee: Rustic Route Cofee.
Sunday
Food Truck: Billy Cole's BBQ. Wine: Loew Vineyards. Local Plants: Hope Valley Farm. Coffee: Rustic Route Coffee.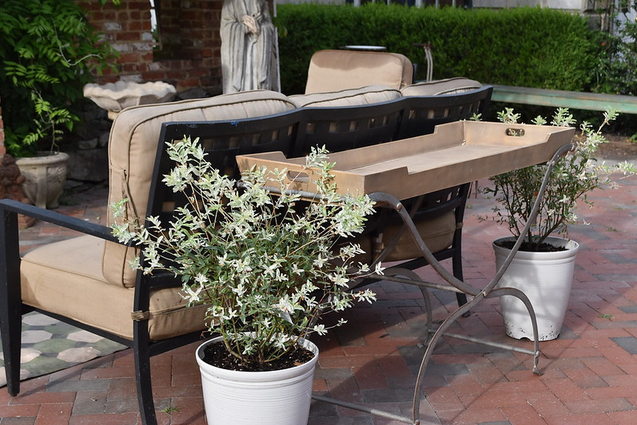 May 19 – 21 / Summertime & the Livin' is Easy Get your home, your garden, your vacation spot ready for the season with those perfect vintage pieces, local plants & flowers. And enjoy the beauty of our farm at its prettiest.

June 16-18 / Annual Yard SALE Grab the bargains! Shop the courtyard loaded with yard sale items, including $5&under and $10&under yards

July 13 / A Mid-Summer's Night An evening event with workshops, demos, and tastings. It's a summer-night party and a chance to enjoy the magic of Chartreuse & co under the cool, summer night sky.
July 21-23 / Back to School Whether you're decorating that dorm room, apartment, or just a study space at home, we've got you covered.

August 18-20 / Fall Preview Event The weather's cooling and now's the time to get those perfect items for making your home its best this Fall.
September 15-17 / **Fall Market Days** Fields loaded with guest dealers and artisans, here this weekend only

October 20-22 / Autumn's Gatherings
The Holidays @ Chartreuse & co It's our barns and grounds dripping with the beauty of Christmas. Throughout the season (November 3-December 4) you'll get to shop the annual Holiday Makers Market, housed in our big tent in the courtyard. Every opening (three full weekends, plus 2 extra Saturdays) includes food trucks, wine tastings, photo ops, local greenery plants and flowers, and cocktails.
November 2-5 / Holiday Bash – Kick off the Holiday season right! And get dibs on the biggest selection of Holiday decor.

November 11 / Holiday Saturday – An extra Saturday of Holiday shopping and fun.

November 17-19 / Holidays in the Barn A full weekend of Holiday decorating, and extraordinary gifts

November 25 / Shop Small Saturday An extra Saturday of Holiday shopping and fun

December 1-3 / My Favorite Things It's your best stop for gift-giving this season – cool vintage finds, extraordinary stationery, games, candles, scarves, and the best hostess gifts you'll find anywhere. Even gift wrap, ribbon, and tags.

THROUGHOUT THE YEAR: We're open Saturdays 10-4 pm for online and furniture pick-ups. While here you're free to enjoy quiet, crowd-free shopping. CLOSED: April 8, October 28, and December 30
All dates are subject to change, so please check our website for full details throughout the year.
Click here for photos of what's in the barn.
---
Types of Event Openings
Chartreuse is open every Saturday from 10-4 for quiet shopping and pickups. Each month we have a big three-day themed event in addition to Saturday openings!
Our in-person openings are barn openings, in which the barns and grounds are open, music is playing, and food is on site. Twice a year we host Market Days, inviting guest dealers who fill our field with twice the goods and twice the fun! Additionally, a curated group of artisans fill our courtyard throughout the holiday season in our Holiday Makers' Market throughout November and into the first week of December.
Barn Openings (all other months)The barn and grounds are open, and food, wine, cocktails, and a mini farmers' market are on site.
Market Days (April and September)
The barn and grounds are open, plus dozens of guest designers, artisans, and dealers are set up throughout the grounds. The event includes multiple food trucks, wine, cocktails, and a mini farmers' market. It's our Barn Openings on steroids!
Holiday Makers' Market (November through the first week of December)
Shop a curated collection of artisans who bring their holiday-themed creations and finds to our courtyard, filling our big tent with unique gifts and decor you'll find only during this seasonal opportunity.
Order Pickup Hours (every Saturday)
Just need to pick up an order, whether one placed online or at a prior opening? No problem. We have hauling staff on site every Saturday 10 am – 4 pm to help load your purchases – no appointment necessary. If Saturdays don't work for you, that's okay too: you can schedule a private appointment to pick it up at another time. If you're picking up a large item or furniture at a private appointment, remember to bring your own muscle!
_________________________________________
#foodtruck #vintagemarket #chartreusebarn #barnsale #buckeystown #beergarden #winetasting #farmersmarket #shopsmallsaturday #homedecor #interiordesign #antiques #dcdaytrip #frederickmd #europeanantiques