Check out the January 2013 issue of Southern Living magazine, where Chartreuse & co is featured as a great source in their article, "Instant Furniture Makeovers."
It's a great article, full of inspiring ideas – but be forewarned, these makeovers aren't exactly instant. But they're worth the effort. Here's a sampling: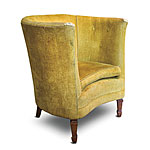 Before:  This great little barrel chair definitely needs love, but the shape is great.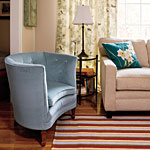 After:  I would have done something more fun with the fabric, but now it's fresh and ready for life in your home.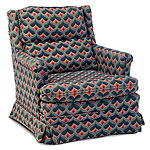 Before:  Grandma chairs like this are all around.  It's not exactly inspiring, but search for one with solid construction, and hand-tied deck (the area that underpins the seat).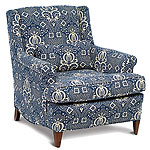 After:  Love this transformation.  The decorator has ditched the dated (and not very comfortable) overstuffing in the seat-back, and replaced it with a much sleeker look.  The fabric a great, too.  And it's so much more up-to-date without it's skirt.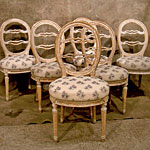 Before:  shabby set of Swedish-style chairs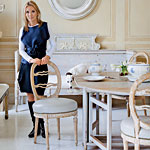 After:  Love the limed-wood treatment and the oh-so-chic leather seats.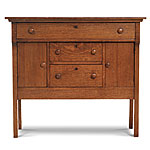 Before:  plain, serviceable sideboard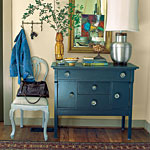 After:  A great accent for any room.  Here it's pictured working very nicely in the foyer.  I just love the daring use of color, and the oversized vintage knobs make the piece shine.  (The darling little chair beside it is lovely, too.)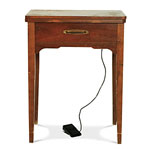 Before:  the always overlooked sewing table.  Yes, there's a sewing machine inside.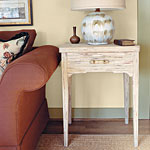 After:  Remove the sewing machine and, (such a great idea!) paper the table with birch-wood patterned wallpaper.  Just love this one.

There's lots more in the magazine, on news stands now.
Have a Happy New Year, and thanks for reading!
Virginia