I get asked about sources for affordable, high-end fabric all the time, and thought you might like to get the scoop.  My favorites are right here in the DC/MD/VA area.  They are:
1.  Haute Fabrics in Marshall, Virginia
This is a selection of not just decorator fabrics, but truly high-end designer fabrics.  Bolts that would be over $100/yard can be found for less than half that.  And in some cases 1/4 or less of retail.
2.  Discount Fabrics in Thurmont, Maryland
A warehouse full of fabrics, notions, and fillers for pillows.  Leather, linen, silk – they're all here, and discounted.  My favorite section is their $5/yard ends-of-bolts section.  You can get up to 7 yds on a bolt this way – enough to do a chair.
3.  G-Street Fabrics in Rockville, Maryland, and Chantilly and Falls Church in Virginia
This store used to be phenomenal, with an entire floor dedicated to designer decorator fabrics.  Again, my favorite section was their end-of-the-bolt area – just piles of fabrics to dig through!  However, with their move a number of years ago off Rockville Pike, it's just not the same.  (I haven't been to their Virginia locations; they may be more like the Rockville one used to be.) Hence they get #3 listing here.
And if you're looking for super-cheap in quantity, I was just scanning Pinterest (okay, so it may have become an addiction), and found a link to Momtastic blog, featuring sources of decorator fabric for under $10.
If you search these with "$10 and under" plus the color you're looking for, you'll find a nice selection at super affordable prices.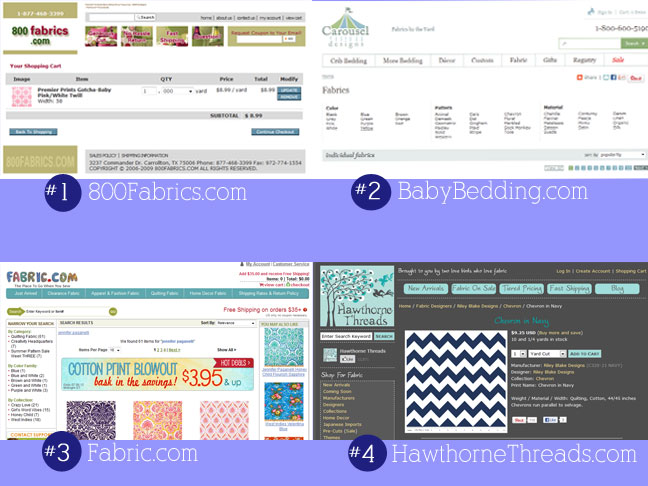 Here they are:
1. 800Fabrics.com
2. Carousel Designs
3. Fabric.com
4. HawthorneThreads.com
Happy decorating!
Thanks for reading,
Virginia