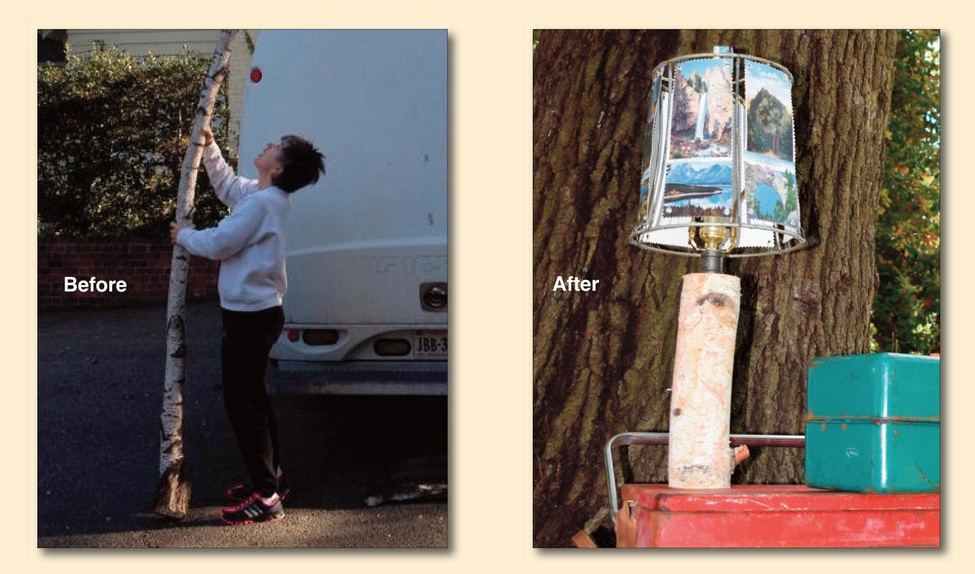 We all like to think that we seek inspiration everywhere.  Hilary Martin, creator and owner of HouseMade, does exactly that.  I love these juxtaposed images for just that reason.  Where many would see simple, decorative logs, or even firewood, Hilary saw lamps.  And not just any lamps.  She saw delightfully woodsy lamps, topped with shades depicting evocative images of mid-century, All-American travel and summer vacations.

And that's what HouseMade by Hilary is all about.  As Hilary says,
"My path along the HouseMade journey began with a love for all things late-19th to mid-20th century:  attitudes, fashion, parenting, interior design, hard work, patriotism and a reverence for our God.  I am immediately drawn to representations of that era in all its forms and transform the items that find me into usable, attractive elements for your home."
And to know Hilary is to know someone who lives and breathes what she loves.
When asked about her inspiration for her lighting, Hilary says,
"Regarding the lighting, I have always been drawn to unusual lamps.  In my home I have table lamps made from a minnow bucket, 1940s drink jugs, an aluminum thermos and a large birch log. Now I actively search items that can become table lamps or items from which I can create pendants."
HouseMade vintage-pattern purses
Another signature HouseMade item is the vintage-pattern purse.  I love what Hilary has to say about the under-appreciated artwork she uses in these oh-so-useful bags:
"Sadly, the illustrations used in my creations represent a lost art form.  Slick photography and computer graphics have replaced the talented men and women who toiled away in skyscrapers towering over New York's legendary 7th Avenue.  My work brings this classic artwork out of countless shoeboxes so it can be enjoyed again."
HouseMade hotel-towel pillows
Hilary's inspiration for these pillows, and the stunning pennant ones she does (you can see one of her pennant pillows on the glider picture toward the bottom of this post), leaps from nostalgia for the by-gone era of gracious hospitality.
"Pillows are another springboard from which I can jump into preserving and highlighting ordinary items that are now quite rare.  I had displayed old souvenir pennants in my son's room whenever I could find them and realized I loved imagining how these families spent their free time together."
HouseMade rejuvenated furnishings
You may not give these a second glance in their original condition.  But their vintage aluminum frames and American-made quality make them ripe for restoration.  And the HouseMade touch.
Now they are as eye-catching as they are comfortable.
Note the pennant pillow with the vintage-fabric backing.  Another HouseMade signature look.
Country Living Fair and beyond . . .
Hilary's obvious talent and creative eye won her regular spots at the Country Living Fairs, including the exclusive flagship event in Columbus, Ohio.  Her journey has been a joy to her:
"I participated in my first Country Living Fair in Atlanta, 2012.  I learned SO MUCH from doing that event and realized this is the audience for my homespun taste. "  While she enjoys them all, the
Rhinebeck, New York
event is her favorite, as it's located in perfectly cleaned out horse stalls, and the venue itself is so vintage-pretty.
About her motivation for doing all the hard work involved in such huge events, she says, it "would have to be the people I've met who have become yearly friends. I'm inspired by these fellow vendors.  Their displays are miniature boutiques. . . " and . . ." it's also fun to talk with folks whom we call celebrities in our business; editors at the
magazine
,
HGTV
and
DIY network
contributors, even the folks at
Antique Archeology
."  Ok, so who wouldn't be thrilled to do that?!
The HouseMade by Hilary collection can be found on the second floor of the Main Barn (Building 1) at Chartreuse & co every month.
Thanks for reading,
Virginia