I'm a dreamer. I see things and my mind just takes off, often spinning out of control, imagining what it could be. True confession: I mentally decorate nearly every interior space I enter. I mean wall treatments, furniture arrangements, lighting. The whole nine yards. I even do this in public spaces. Why should it be okay that they are dull and uninspiring?
So I draw inspiration from almost everything.
And then there's reality. Which I'm facing right now.
We have a small tenant house on our property which we're in the process of renovating for the first time. I see it as a cottage: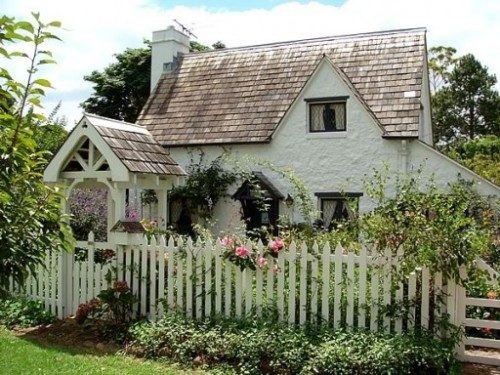 When in fact, it looks like this: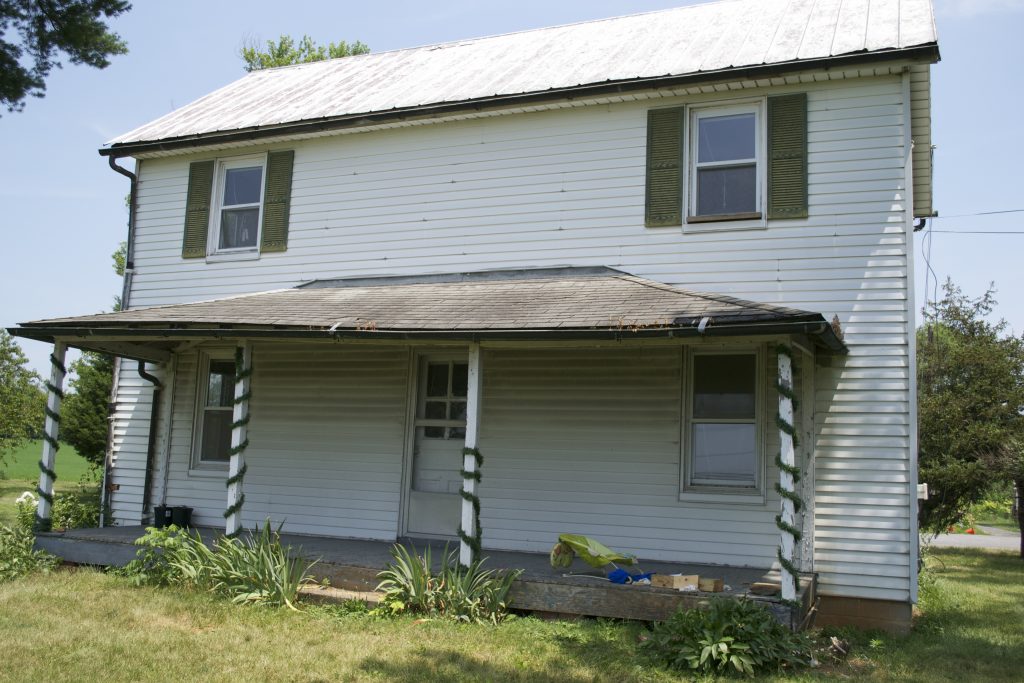 But even so. I see clematis growing over lattice on the porch, underplanted with hydrangeas. I already have the vintage porch furniture for it. And the real wood shutters to replace the horrible plastic ones. I even see shutters on either side of the front door. Isn't it adorable!?!
And then we go inside. I'll start with the kitchen, which i would see like this: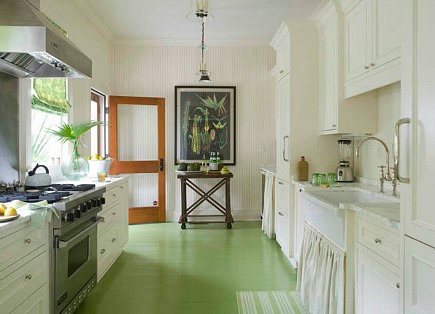 However, the reality when we first got in there was: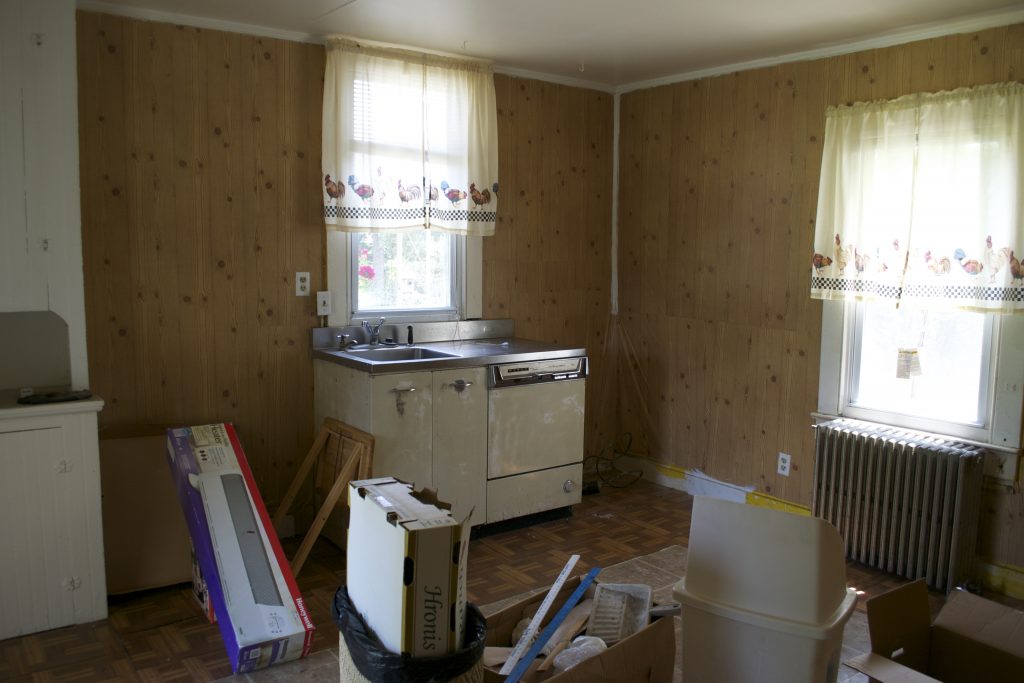 And, actually it's almost worse than that. The 'wood paneling' on the walls (which I think can be adorable painted white, isn't wood paneling at all. It's contact paper. And the 'parquet' floor? That's vinyl floor tiles.
So after working on it for a while, here's what we now have: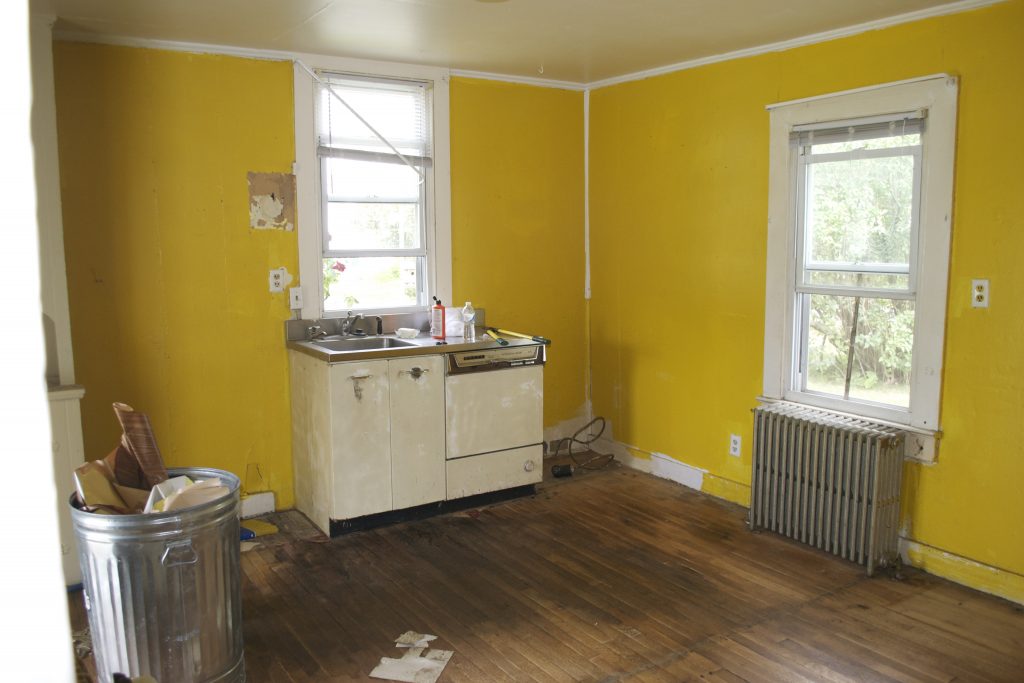 But do you see the hardwood floors?! Turned out that under the vinyl were three more layers of plastic flooring, ending with old linoleum that brought all of the rest with it in one big sheet. Super lucky.
Condition of the walls? Not so lucky. I see walls of the palest grey (Farrow & Ball's Pavilion Grey), white trim and tissue-thin white cotton voile curtains to waft in the breeze. Marble counters, beaded board back splash, and sleek stainless appliances. And, of course, a fabulous 1920s French chandelier dripping with crystals for over the central island. Don't you just see it?
The dining room to go with this fresh and charming kitchen? This is the one I imagine: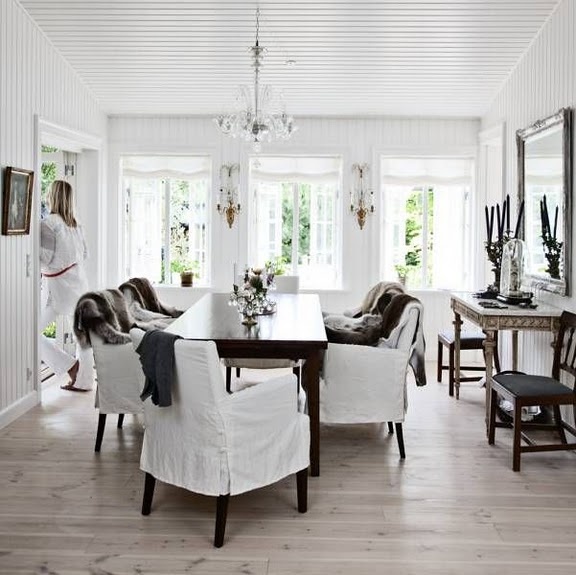 Pretty sweet, huh? The airiness of my kitchen flows right on through, doesn't it?
But this is what I have: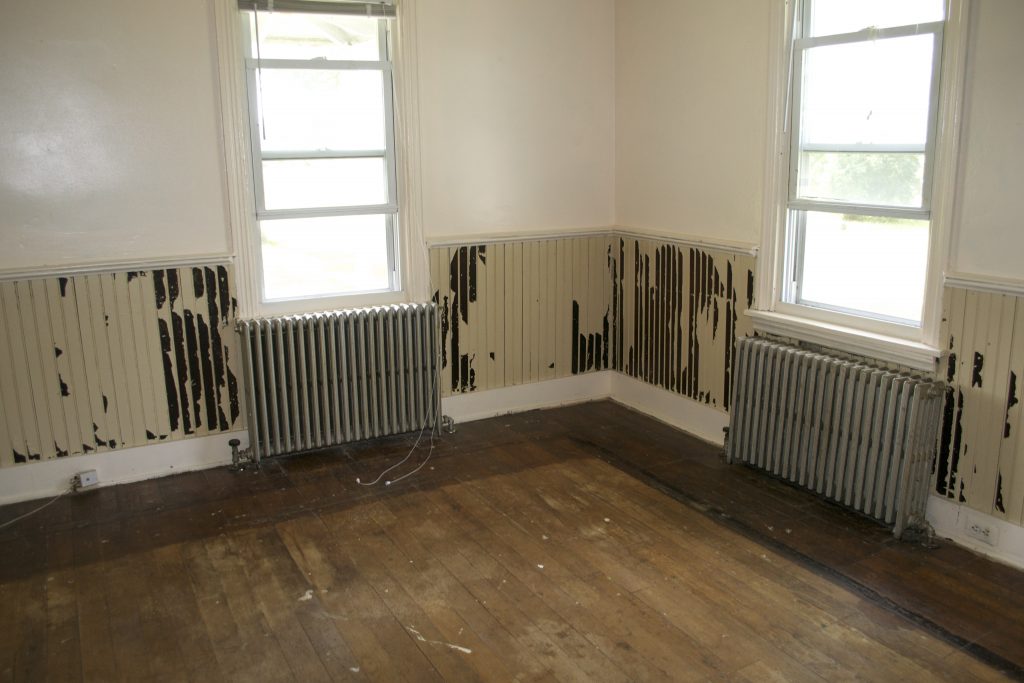 Remember the vinyl tiles from the kitchen? They covered these hardwood floors, too. Pulling just half of them up took me over 6 hours. And cost me my favorite, chartreuse green flip flops. The stuff they put those tiles down with is like human fly paper! Chip had to come to my rescue and got the rest of this room, plus the living room finished in just a couple hours! No, I cannot explain it.
And this room has great potential. The wainscoting is lovely. I see carrying the grey from the kitchen walls into the dining room, and painting the wainscoting the soft white of the trim. The ceiling, naturally, must boast another equally stunning chandelier, hanging from a ceiling cabana striped in the grey and white. I'm thinking a sisal rug for texture, a large, round, limed-wood, pedestal table with french chairs. And a pretty daybed, upholstered in Belgian linen, under the window. Straight panels, hung from the top of the walls would frame both windows. Better, don't you think?
And the powder room?
Imagination: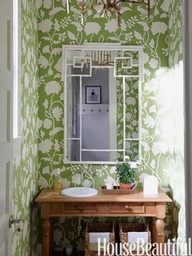 But what we found was this: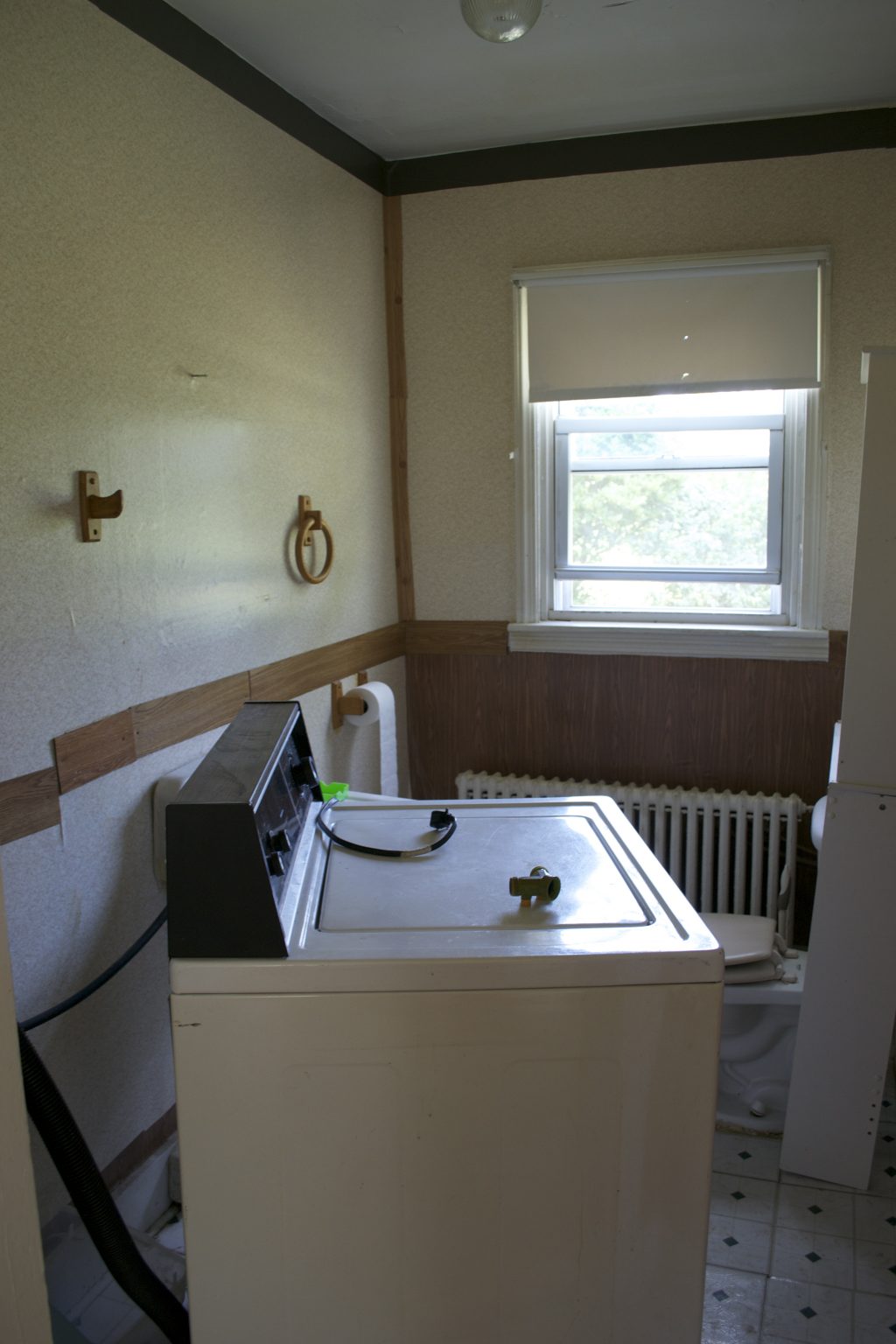 And with a little work, we accomplished this: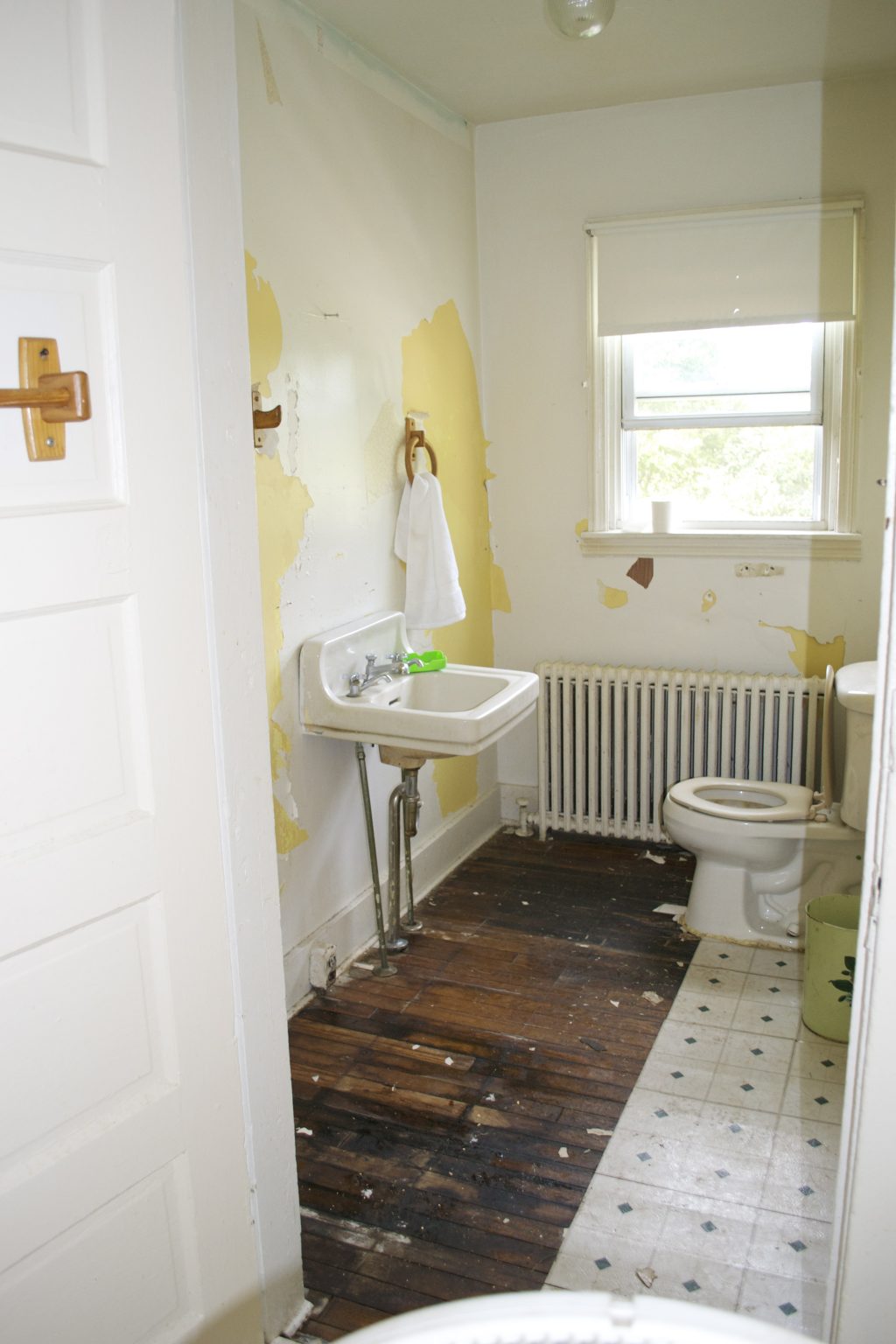 In spite of the leaking pipes, twenty layers of contact paper and wall paper, seriously damaged wood floor and failing fixtures: I see potential here, too.
With the floors dried, cloroxed, sanded, and waxed, they'll be lovely. And here's my one indulgence of wall paper. I just love it in small spaces. I'm thinking toile, but I'm open to whatever trips my trigger in the wall paper store. It's such a tiny space that I feel it can be completely indulgent. Of course a white, pedestal sink and new white toilet. Inset plantation shutters for the window, so it can remain open in decent weather, while maintaining privacy. And in here, the smallest of delicate chandeliers, like a pretty jewel in it's box. That's what I see.
I'll be shooting pictures as we go. It's a long, slow process, but it'll be worth it in the end.
Thanks for reading,
Virginia