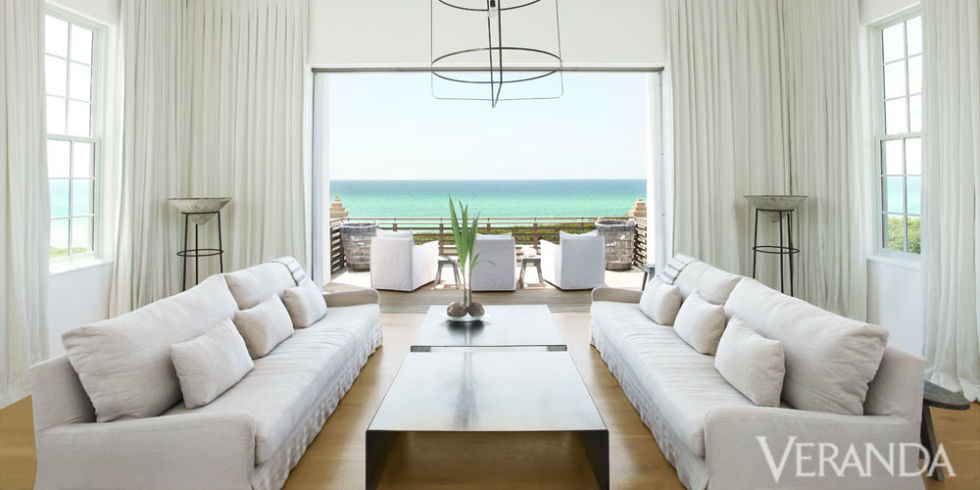 You don't have to have this kind of view to embrace white on your walls (although it certainly doesn't hurt!).  It allows your furnishings, artwork, mirrors, wood or tile floors, and architecture to shine.
Veranda magazine's July online issue had a great article on just this topic, in which decorator Rozanne Jackson discusses her favorite shades of ivory for every space:
"1. Sherwin Williams – SW551: Greek Villa. This is my favorite soft white, it looks beautiful in any light. I have used this both at projects on the coast, and in the hills of Tennessee. It neither reads pink nor yellow, but stays true soft white.
2. Zolatone – the Counterpoint Collection. Several varying shades of white, all pearlized. An awesome set of paint options to glamorize cabinetry for bathroom vanities and closets. Subtle, but elegant.
3. Sherwin Williams – SW7637: Oyster White. Just like the name states, a perfect white with slight gray undertones. This is a wonderful more gray option for walls and trim, providing a sense of mystery without appearing too dark.  (Oooh!  I wanna try this one in my bathroom!  Va's comment)
4. Farrow and Ball – Strong White #2001. Another great white for walls and millwork. I love the crispness that it adds to a space.
5. Farrow and Ball – Joa's White #226. This is the color of antique French linen. It is a gorgeous warm white.  (LOVE, LOVE, LOVE this color!  Va's comment)
6. Fine Paints of Europe – WC-05. This paint is very luxurious and thick in texture, great for your front door! I love the high gloss finish – it is reminiscent of the stunning doors you encounter in Europe.
7. Sherwin Williams – SW6259: Spatial White. It has a soft lavender undertone. I use this color when I want to create a romantic mood.  (Use this one with caution . . .  Va's comment)
8. Benjamin Moore – OC-130: Cloud White. This soft white is another great go-to for your walls and millwork. As the name suggests, it reminds me of a big fluffy cloud on a hot summer day. "
Now go grab a few gallons of white paint, freshen up your home, and let the light in!
Thanks for reading,
Virginia