I love a challenge.  And, for me, no challenge thrills me more than a decorating one.
My sister, Margaret Koogle, is a real estate agent, and every now and then she comes upon a house that needs a little staging.  Much as I enjoy challenges, I have a few ground rules with decorating:  1.  Only with my stuff  2.  Only in an house that will be empty.  Other than that, I'm all in.   So about a month ago she sent me this picture:
And this one:
Now, I'm a brave soul.  And I really do mentally re-decorate rooms I spend time in – even doctors' waiting rooms – just for fun.  And, as I said, I love a challenge.  But you also need to understand that one of my pet peeves is wood-paneled walls.  I mean, WHY??  Why darken your home?  Why wrap yourself in wood veneer?  I've never understood it at all.
So, back to our story, Margaret had just sent me pictures of what is one of my definitions of an unattractive space.
CHALLENGE ACCEPTED!
None-the-less, I whined at her, "Can't you convince them to at least paint those walls?  And the light fixtures?  PLEASE let me replace them with my own."
Margaret felt my pain, but the clients were firm:  they would remove their things, but they would not do any work or change any fixtures.  So there we were.
We visited the house, with tape measure and graph paper in hand, walked through every room, got a sense of the house and what it could be.  And it's a GREAT house!  The homeowner designed it himself in the late 70s, with an open floor plan, huge fire places, tons of closets, and had it set in a perfectly private and secluded, 12-acre lot.  While I would paint the exterior brick and trim, extend the front porch, and replace the metal posts with wooden ones, the house is well built, and enjoys wooded views from every window.

The front door opens directly into the 20'x30′, fully paneled living room.  The kitchen lays to the right of the entrance, with the master bedroom behind it, and a breezeway between it and the garage.  The additional two bedrooms are to the left of the living room.
BEFORE:
When you have a dark space, the key is to embrace it with rich texture and light details.  And tons of lighting.    Here's my answer to this room:
Directly to the back of the kitchen, is the master bedroom.
The other side of the kitchen opens onto a generously-sized, enclosed breezeway, which provides access to the front yard, back yard, laundry room, garage, and unfinished basement.  Here's what we did with it: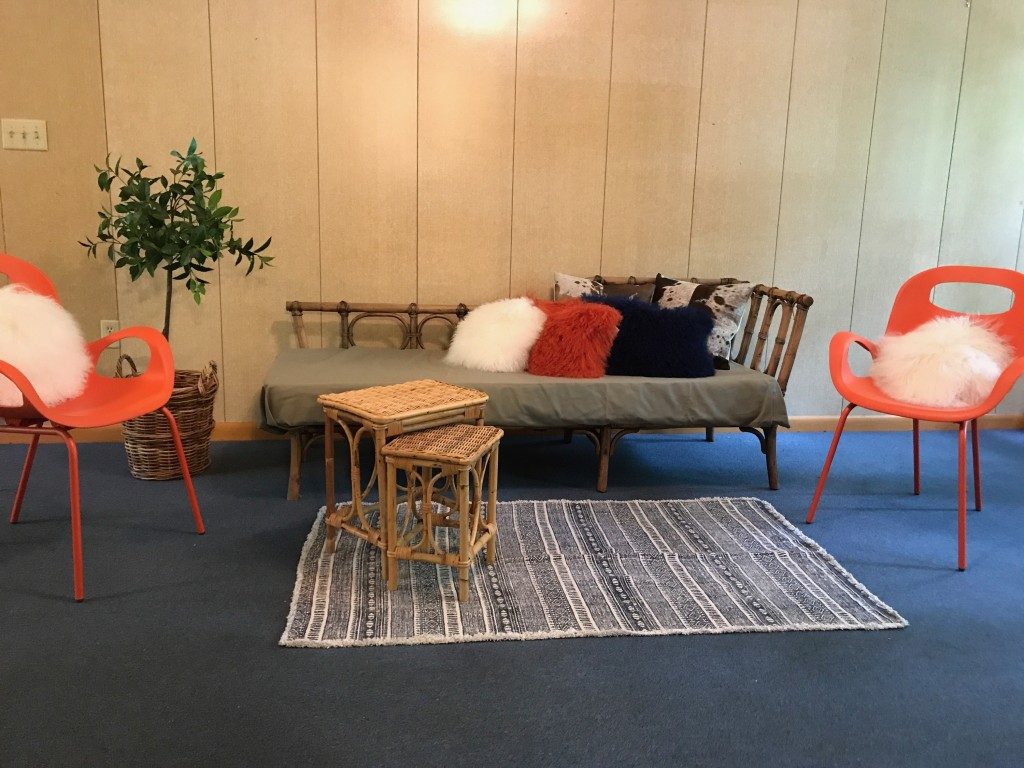 We did some work in the second bedroom and office, as well as adding some accessories to the bathrooms – and removed ALL curtains throughout the house (in a deeply wooded spot like this, there's no need for curtains!).
Click here to see the full tour of the house from the listing website.
I hope you enjoyed this transformation.  I can't even describe how excited and pleased I was by the results of this challenge.  It really has become a home I would be comfortable in.
Thanks for reading,
Virginia
Save
Save
Save
Save