Thanksgiving is a day dominated by an iconic meal. Here are a few tips I've learned over the years for making it easy and tasty:
1.  Have drinks and appetizers ready for when guests arrive (or, if you're not having additional guests, about an hour before you plan to eat).  NOT fancy ones – you don't want to overwork yourself on this stage of the game.  But if you haven't planned for this important step, the crowd gets restless if the main event is not right on time.  (I've learned these lessons the hard way . . .)
My current favorite drink recipe: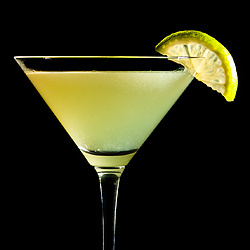 Chartreuse cocktail
2 parts Gin
1 part Chartreuse liquor
1 part Rose's Lime Juice
Sprig of fresh rosemary
fresh lime juice
Fill shaker with ice.  Add spring of rosemary first, then the wet ingredients.  Shake thoroughly.  Pour into a chilled martini glass or over ice in an old-fashioned glass.  CAUTION:  it's a strong drink, which is easy to dilute as much as you like with chilled Sprite.
2.  Make your home as fresh, beautiful, and inviting as you possibly can.
Have music softly playing throughout the house – never underestimate the power of music to set the mood.
Burn softly fragrant candles throughout the house.
Create a simple, easy centerpiece (for table or buffet):
Go outside and clip some greens and branches.
Gather fruits from the grocery store.
Stack cake plates into a tier, place the fruits on each level, and trail the greens through them, and down to the table/buffet.
Underlay it all with a burlap runner.
Top it with a mismatched collection of candlesticks filled with autumn-colored candles, and your dining area is decorated.
3.  Accommodate the need for football.
It's too big a deal to ignore.  Have a tub of beer and soda on ice, plus basic chips and salsa/dip in the main TV-viewing area.  The serious fans care about nothing else.  Let them have their day.   But, make sure this activity is away from the main dining/conversation area.  The not-so-serious fans need their day, too.
4.  Provide a great menu.  Don't try getting fancy.  This is a meal at which everyone has basic favorites.  Be sure you've got 'em covered:  turkey. mashed potatoes, gravy (homemade), assorted vegetables (this is where you can experiment some), sauerkraut, cranberry sauce (I prefer the jellied variety), stuffing, apple pie, pumpkin pie garnished with fresh whipped cream or ice cream, really good coffee (illy brand is best)
5.  Roast the perfect turkey.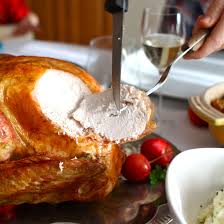 Forget the brining, deep frying, and voodoo.  Here's what makes a tender, juicy, roasted turkey:
Remove giblets, etc., rinse turkey inside and out.  Pat dry.
Place in large roasting pan and brush on a thin coat of olive oil (I use extra virgin).
Generously season with freshly grated sea salt, black pepper, herbs (I use italian – oregano, basil, thyme, rosemary, margoram).  I put enough herbs over it that it's practically coated.  (It's a big, fat bird.  It can handle it.)
Place pats of butter on the bird.  I place 3-4 over the highest part of the breast, plus a couple of the legs, and any prominent points.
Cover with a loose dome of tin foil (my grandmother's secret to a juicy turkey).
Roast at 325 degrees according to times listed on the label.  (Butterball.com has a great chart on their website.)
30 minutes before the turkey is fully cooked, remove the tin foil, allowing the bird to brown nicely.
When finished cooking, let the turkey cool, recovered by the tin foil, for about 15 minutes.
Enjoy.
Follow these 5 steps, and when you finish them, as you sit around the table, enjoying conversation and the last bits of pie, you'll be relaxed enough to enjoy it all.
Happy Thanksgiving,
Virginia