Believe it or not, I've never actually used chalk paint before yesterday.  I see the beautiful pieces come into the barn.  I see them online.  I really love the look and so many of the colors.  But I've been reluctant.  Partly because I've heard there's a learning curve involved, and partly because it's not easy to get.
So I've never tried it.
Until yesterday.  As I was looking at this piece: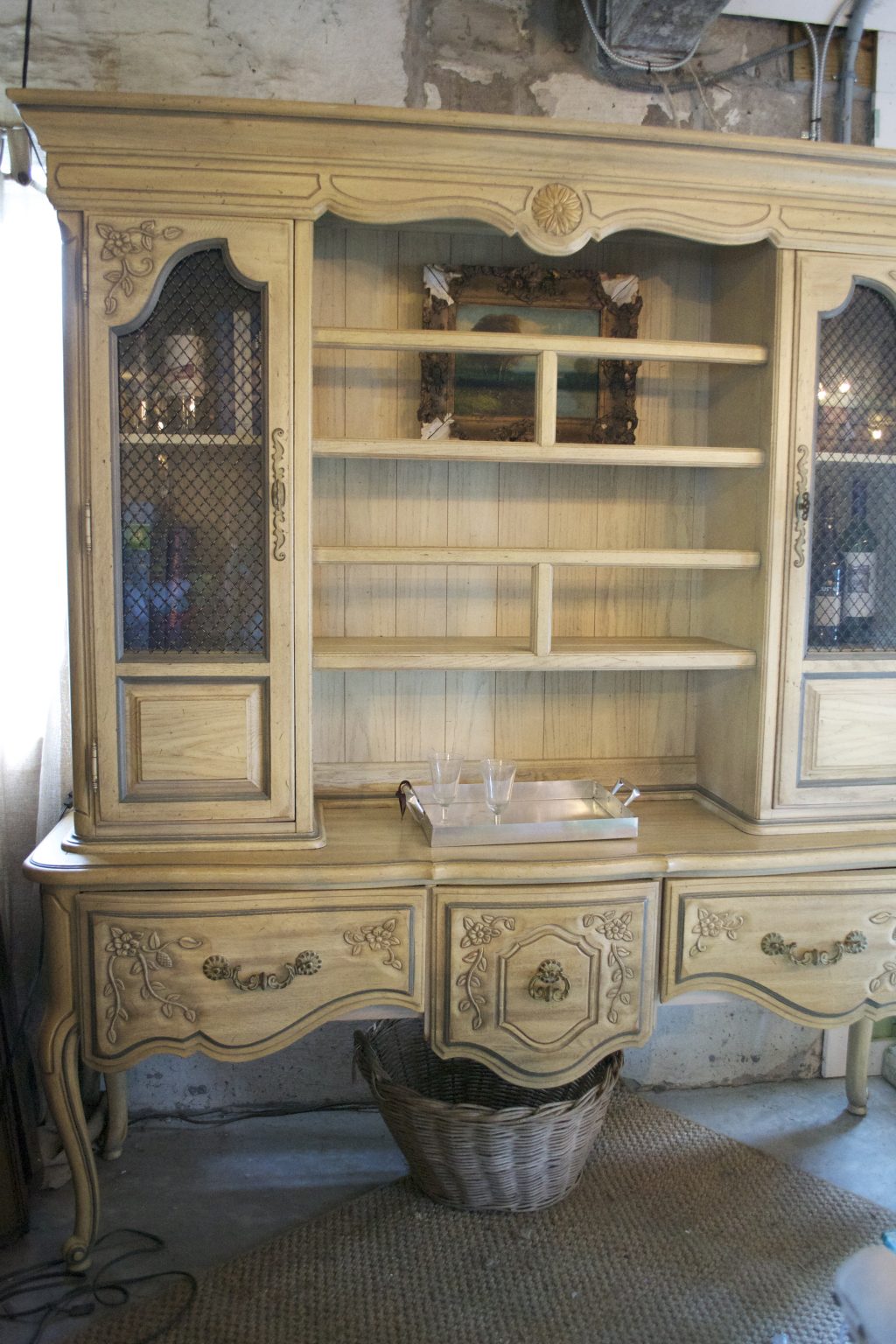 It's got such great lines, outstanding construction (it's actually a solid oak Thomasville piece) but the yellowish, 70's stain, with slate blue highlights,  just weren't working for me.   Painting it was the obvious solution.
Some crazy thought flicked into my head that this piece, and this time (3 days before Market Days)  was right for trying chalk paint.
Common sense tells you to try a new technique on something small and unimportant.  Take a good look at this hutch.   It's so tall that I need a step ladder to reach the top.  It's about 6′ wide, and weighs more that a small elephant.  And I was planning it for the centerpiece of my Market Days display.  This piece is both huge and important.
Undaunted, I started in with my deep taupy paint.  Just the muted cocoa/grey shade I was looking for.  It was looking great, and going on so easily!  "Wow, looks like it really will cover in one coat!"  I wanted to squeeze myself.  You see a big part of the motivation to try chalk paint was that so many people had told me that this miracle is true:  chalk paint covers in one coat.  And it doesn't chip, or need primer.
But when I climbed down off of my ladder and gazed back up at my masterpiece, I saw that the paint was drying at least 6 shade lighter than it went on!  It was almost cream colored!  Oh no.
I took a deep breath.  That's okay.  I'd planned on the antiquing wax.  It'll make all the difference.
Out comes the wax.  Now I've waxed before.  And I know that wax takes elbow grease.  So elbow grease I gave it.   Initially it was beautiful.  The happier I was with it, the more intensely I rubbed it in.  Until – oh horror! – the wax was pulling the paint off.  Throughout the piece I was looking at whole swathes that were just antiquing over the original finish.
I could have cried.
Instead I walked away.   In search of someone to whine to.  I found Fran.  Fran is a seasoned painter, and a master fixer-upper.  "Oh just dry brush some more paint in those spots.  It'll look great."  I wanted to believe her.  I wanted to have it all turn out.
My plan?  Abandon it.  Have a limoncello martini (an excellent solution to most summertime problems), a good nights sleep, and paint it with some Farrow & Ball in the morning.
But when I returned this morning, I decided to try Fran's advice after all.  And look at how it came out: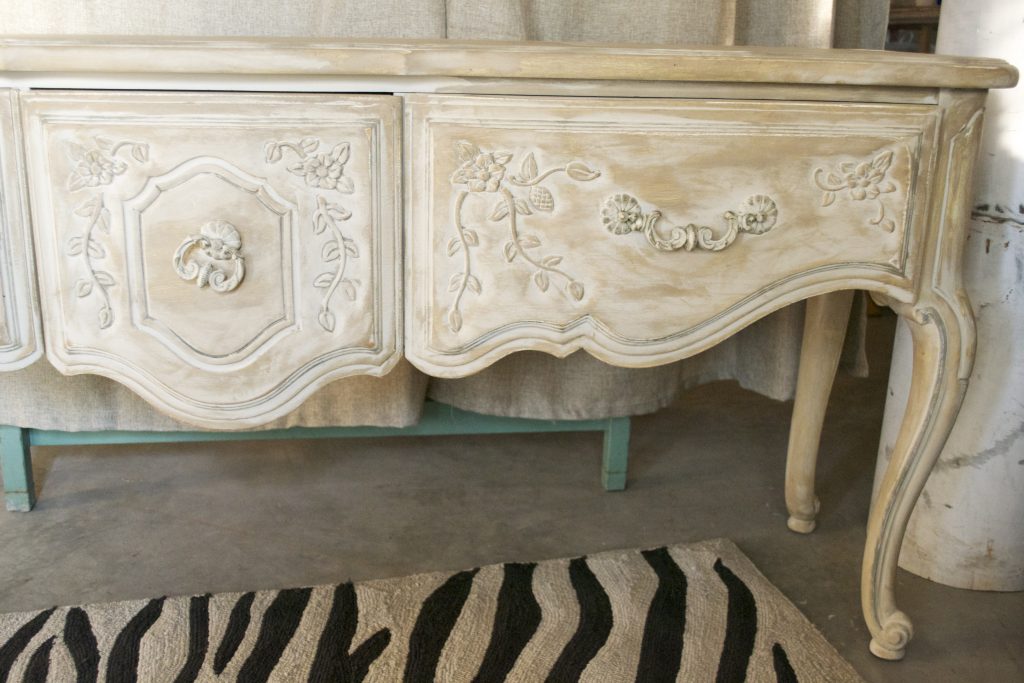 I am so pleased with the finished product!  I really  love it.  And it did actually cover in one coat.
Turns out my problem was that I should have wiped the wax on gently, not so harshly.   Upon further investigation (and whining to everyone who would listen to me AND knows something about painting with chalk paint) the Annie Sloane paint has quick drying qualities that the paint I used does not.  Additionally, the Annie Sloane wax does not rub off the paint the way the wax I used does.  On the flip side, this wax is completely organic and natural and doesn't smell at all.  The Annie Sloane wax (though much easier to work with) does reek.  So there's the trade off.
What do you think?  Do you like the final effect?   You'll have to wait to see the whole thing, as it's so heavy, that I have to have 2 men to lift the top back on.
By Saturday morning it'll be fully decorated, and you'll see it if you drop in on Market Days.
Another Market Days perk?  Repurposed & Refined, one of the temporary dealers, is offering chalk paint demonstrations throughout the day.  I think I'll be taking one in!
Thanks for reading,
Virginia