I have 3 sisters.  Two with whom I grew up.  And one 14 years younger.  My baby sister, Lizzy.  The one I dressed in a tiny letter sweater and took cheerleading with me (yes, I was once a cheerleader).  The one who ran through my college freshman dorm, charming (and possibly annoying) my soon-to-be dear friends.  The one who was a junior bridesmaid (absolutely NOT an 8-year-old flower girl!) in my wedding.  This dear little child now has 4 darling children of her own, and is decorating her new office.
Yes, I want to go crazy (i.e. gather dimensions, take pictures, assess the lighting, do drawings) and create the ultimate work space for my dear sister. But the first thing you do with any office design is ask some basic questions first:
1.  How do you use your office?  Are you there all day, or in and out throughout the day?
2.  What basic items must your office include?
3.  What's your style?  What colors energize and draw you?  Do you love things, or is the sleek, spartan look more appealing to you?
Her favorite colors are robin's egg blue and sea green.  She has 4 young boys, so something to emphasize her femininty would be nice.  And she loves Manolo Blahnik shoes.  So clearly at least a modicum of style is needed.
She's out of the office much of the time, but when she's there, she's got to have handy all the paperwork she's tackling, as well as the back-up material to go with it.  So files and storage are important.  Occasionally she meets clients in her office.
Here are some ideas that would work nicely for her: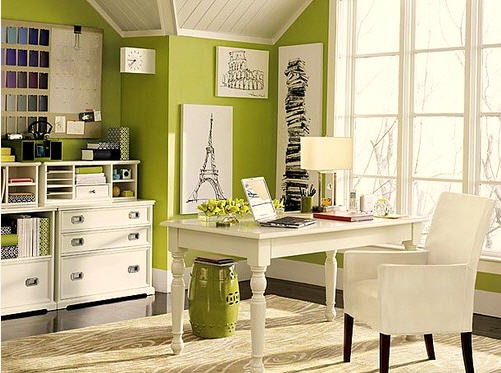 Bright, airy, plenty of storage space, but not too much at the desk.  Sleek, yet inviting.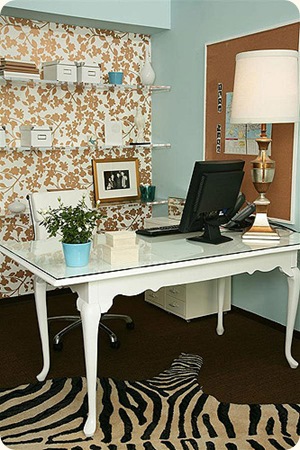 Contrasting patterns, tamed by the soft blue of the walls.  Handy, yet chic storage, elegant lamp, and very feminine lines on the amply-sized desk.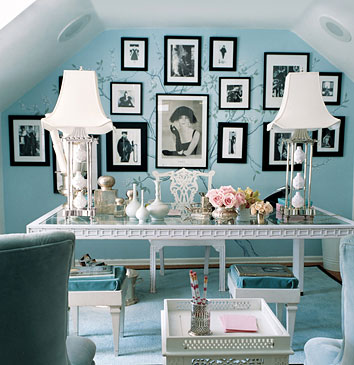 And I think this one is perfect.  An almost-Tiffany blue, graphic photos of her boys in black and white.  Comfortable, inviting, feminine, stylish.  Perfect for Lizzy to set up shop in.
But back here in reality, what she has is 1980's institutional bland:  beige/yellow walls, greyish carpet, 1980s metal beige desks with 'honey oak'-like surfaces, and (absolutely worst of all) florescent lighting.  And she shares the 12'x13′ space with 3 others.  So many challenges.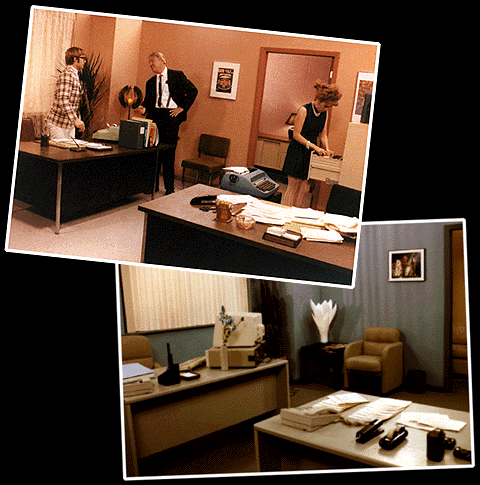 Liz started wisely by selecting a number of favorite items to try in her office:  a painting of a French countryside, all blues and greens, very impressionistic.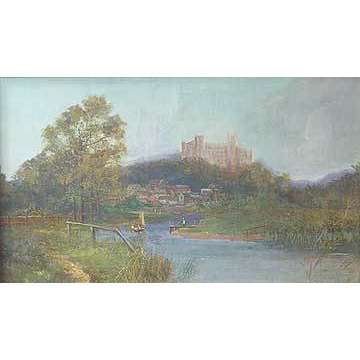 She has (my go-to for brightening a room) a couple of very nice faux potted greens,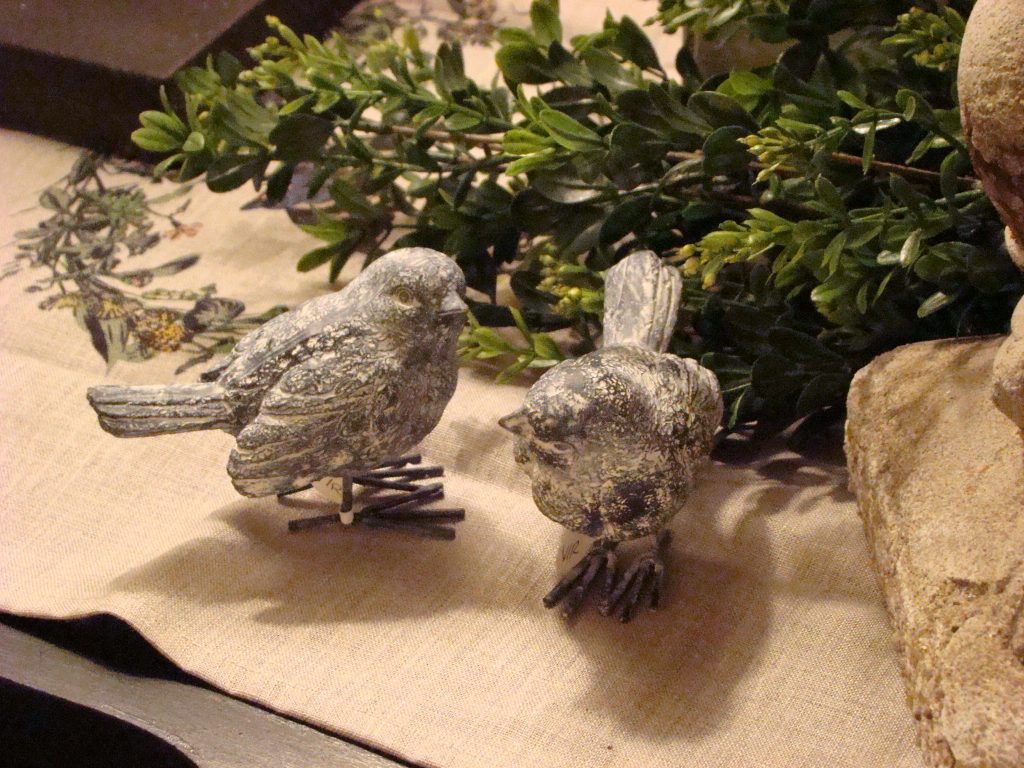 a botanically inspired tray, and a piece of vintage-green iron architectural salvage for the walls.  She's got her eye on a chic, bottle-blue lamp.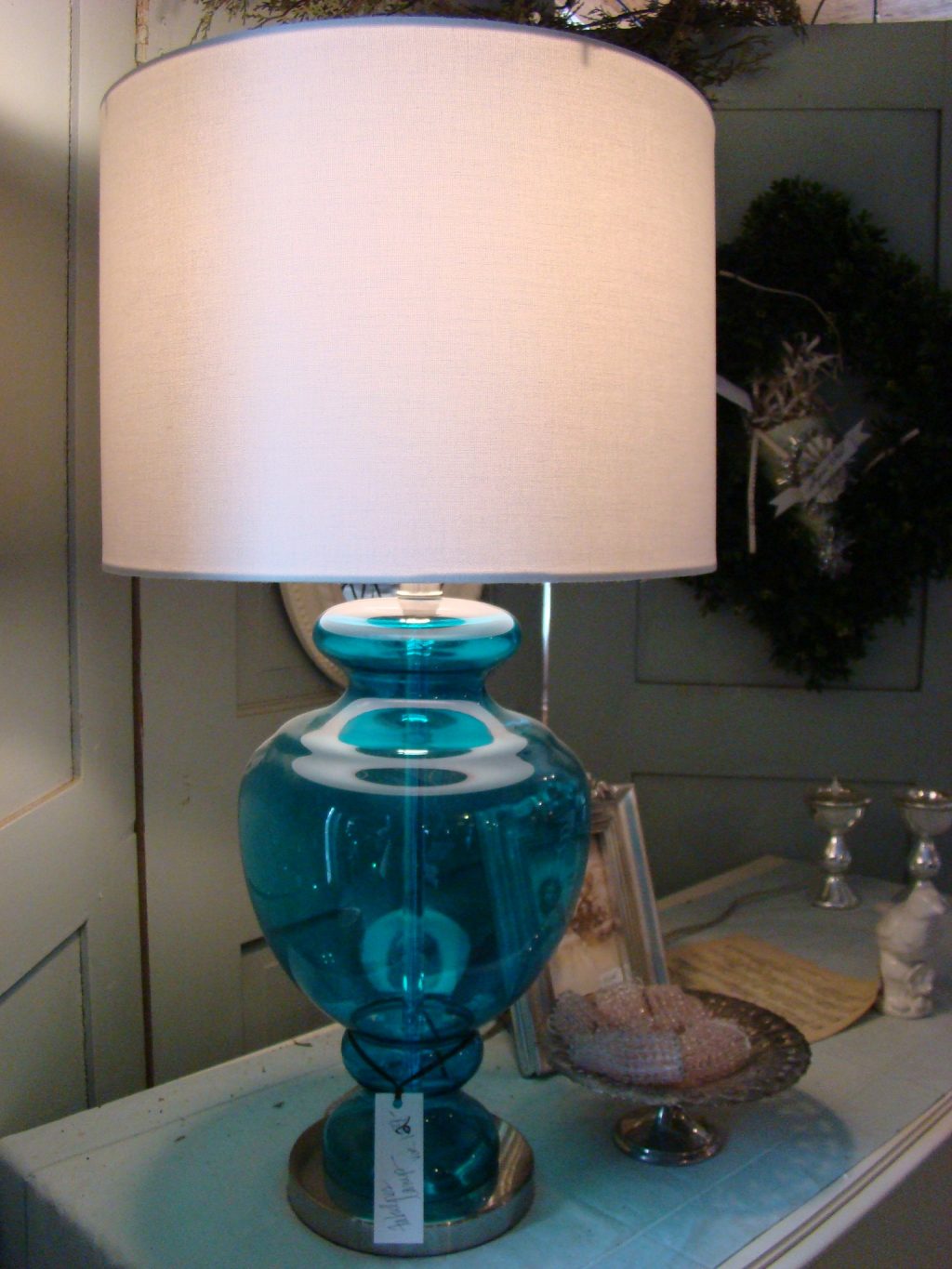 These are all so perfect together, bring in her favorite colors, and a sense of nature and the outdoors.  But after she left, I thought, maybe the approach was all wrong.  Maybe she needs to embrace the color scheme that exists (and will continue to exist for her co-workers' spaces), but pull into it a sense of style and purpose.
There's a black console she liked that could go behind her desk, a very sensible tripod lamp, some metal trays for sorting.  An aesthetic something along these lines: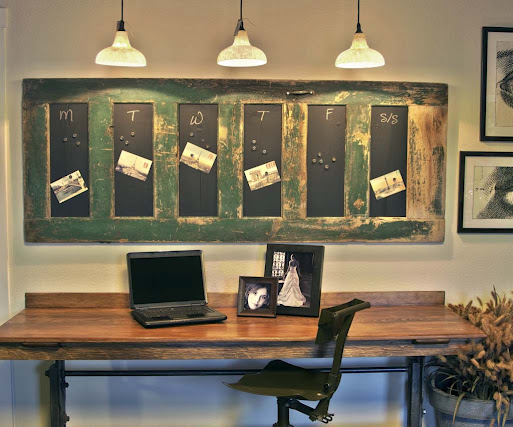 What's the best way to go?
I'd love to see Lizzy, my baby sister, in a place that's just right for her.
Looking forward to getting your feedback!
Virginia