To get anywhere on the first floor of our house, you must pass through the dining room.  It's both the figurative and literal heart of our home.  As you look through the pictures of this room, you'll see how many doors and windows there are.  It opens onto the Long Room (foyer), the Square Room (tv room), the Glass Room, and the kitchen hall.  That's in addition to the windows and mantel.  The only real wall in the room is the one the sideboard is on.
This room is where Grandmother presided over dinner every Sunday afternoon, every birthday, Easter, Christmas, Thanksgiving.  They were all celebrated in this room.  This wallpaper was put up in 1972 by my Grandmother, with the help of my decorator mother.  While I really don't like wallpaper in general, I do like this paper.   As is true of almost every room in the house, I'm not a fan of the dark stained woodwork, but the walls, doors, and trim are all as grandmother left them.
The chandelier is a gift from my mother.  The scale is a bit small for this room (15'x17′), but I love its shape and sparkle, so there it is.  Grandmother's dining table is in my parent's home, and this one is from Flohr's Vintage here at Chartreuse.  It was found in Pennsylvania, with all 6 of its original leaves, with the word "Frederick" written across the holding case.  I love that it's come back home to Frederick County again.
We have a mix of the beautiful 19th century chairs from my mother and a set of mid-century, french-provincial, black-painted ones.  I painted the black ones years ago and had intended to recover their black vinyl seats.  But the girls were young at the time, we had many young visitors, and the vinyl seats proved quite handy.  So there they are.
The carpet was always in this room.  We had it in our living room in our last house, but knew it would fit this room perfectly, so when we moved, we returned it to its original home.  It's getting a bit threadbare in places, but I love it.  And just recently my mother sent me the original receipt for the purchase of it by my grandparents.  She found it among some of my grandmother's pictures and ephemera.
Here's a tour of the room: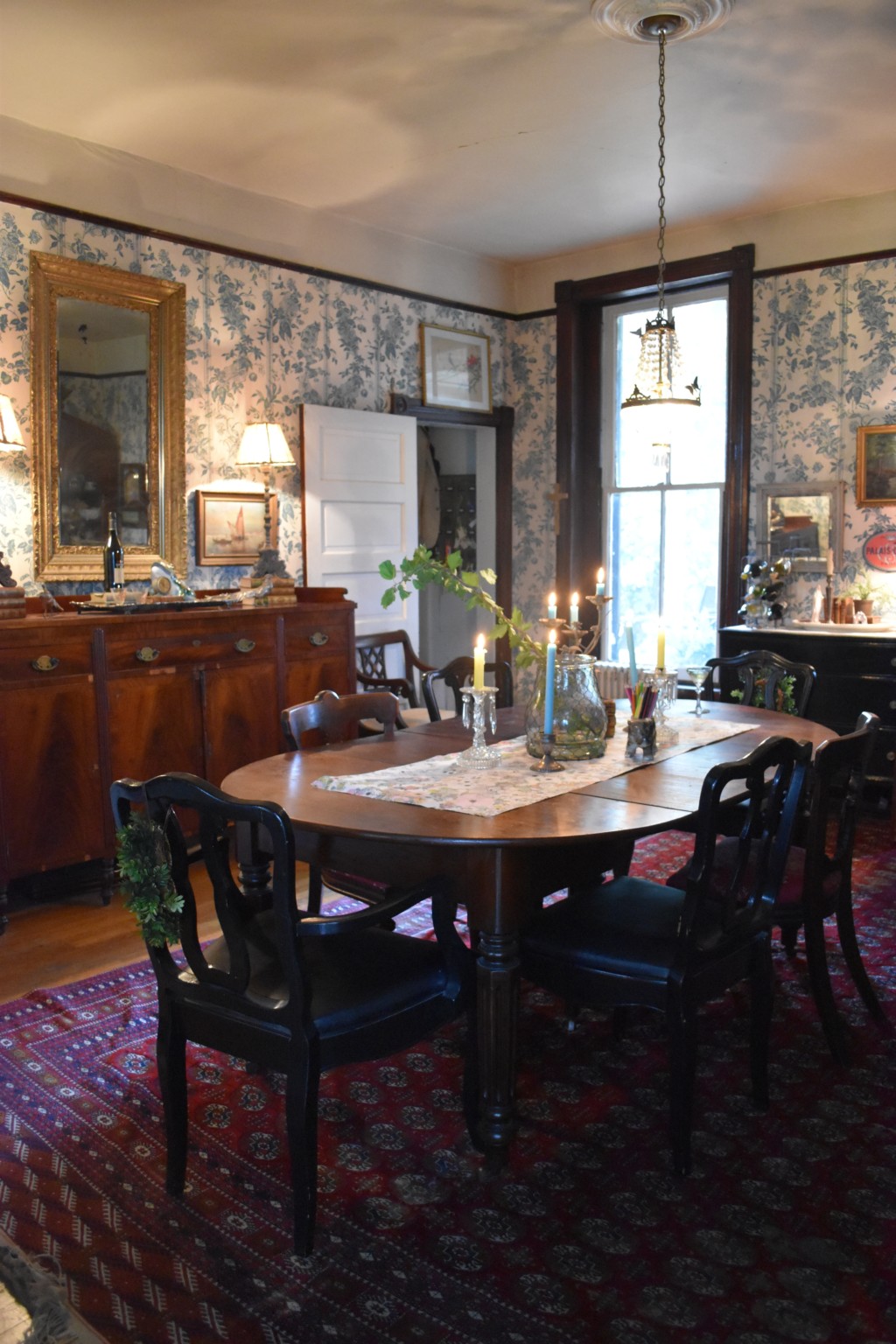 So there it is, the center of the home, the dining room.  Check out the vintage/before pictures of it here.
For us, the dining room is easy to use, and we enjoy our family meals here.  They are not formal, though I realize the room may look that way.  They are relaxed, and centered around good food, good company, and good conversation.
I suggest you fill your dining room with things that make you smile, that make you comfortable.  It will draw in those you love, so use it as often as you can.
Next stop:  The Glass Room, Saturday, August 27
(We're open Saturday, August 20, so I'll be blogging next the following week.)
Thanks for reading,
Virginia